Okay, folks. Remember Mr "Hottie" (gag) from my post on May 24th? Here's his picture to remind you: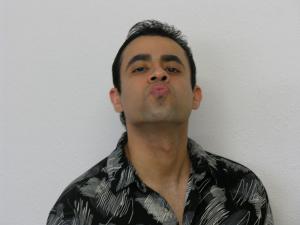 Well, he's back. And in his new post he included a picture of his ... errr .... uhhhhh ...... errrrrr........Mr Willy. Yes he did... I kid you not! This guy is creeeeeeeee-ppppyyyyy, people ... creepy! And yet thinks he is God's gift. Amazes me.

Anyway, here's his latest and greatest (HA!) post. Mom, if you're reading this please, please, please stop now and move to the next post. Really. This is definitely not mom material.

p.s. Sorry folks ... I am NOT including the picture of Mr Willy. Nope, am not. Because I've got class (HA!). I will though inform you that it was shaped like a left facing letter 'C' (snicker). And ... interesting enough (I mean, I'm not a detective or anything) .... was taken at the same angle a picture would be taken if say he was taking the picture himself. Ya know, he was standing and the pic was from the top. I mean, MAYBE the "hot girl" was standing behind him and reached around his chest with the camera pointed down and just

happened

to frame it perfectly? Or .... maybe there

was

NO "hot girl". (
I'm just sayin'.)
Hmmmm. Maybe all is right with the world afterall.

ONLY HOT GIRLS FOR A HOT GUY. NOTHING LESS - 29

---

Reply to:

anon-77760483@craigslist.org


Date: 2005-06-08, 2:20PM PDT




I finally brought you PENUS. NOT TO FAT AND UGLY WOMEN. THEY CAN NOT HAVE ME,THAT IS WHY THEY HATE ME. IT IS SUMMER AND THEY ALSO SMELL!!!!!! [does he

seriously

say he is a "nice guy" later on in his post??????]


Hey this is Shahan or PENUS MAN. Sorry it took so long to get a penus shot. I finally found a hot girl whom has a digital camera to take a picture while sucking my COCK [why oh why "hot girl" would you be with this guy?? Perhaps you were drunk or drugged?? Yes, yes ... that must have been it. Otherwise you would NEVER have been with this guy, right?! Right??!! Yes, yes. Must think normal/sane/sober women would not be with this guy. Must.]. Looking for a hot girl or hot girls to have some real good fun. I like to go dancing at nightclubs, blind dates, or whatever. I usually go to Voodoo Lounge and H20. Get in touch with me and we will make plans to meet somewhere. We could meet up at a bar or a nightclub, and I will show you some of my dance moves [oh please don't]!!! I ONLY RESPOND TO EMAIL THAT LEAVE THEIR EMAIL ADDRESS: SO When you email me, type in your direct email address or number on the bottom so I can get back to you. IF YOU DON'T LEAVE ANY INFORMATION WHEN YOU EMAIL ME, I WON'T BE ABLE TO GET BACK TO YOU!!!!! [uhhh, perhaps you could just try hitting the Reply button. Just a thought.]





DESCRIPTION:





• Job: Landlord of two houses




• Drives a nice car




• College student




• 9 inch long




• 6 inches thick




• Height: 5'11"




• Ethnicity: Middle Eastern (Iranian)




• Light complexion: Nice Light Tan




• Athletic looking jaw




• Perfect teeth




• Nice black eyes




• Clean cut




• Athletic build




• Definitely a nice guy [holy crap! He DOES say he's a nice guy. ARGH]




• Politics: Very liberal




• REPUBLICANS SHOULD BE SHOT