... so by God,

there be Fuzzy Feet

!
See?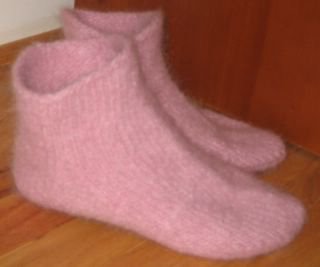 Well, granted ... they could be

fuzzier

. I apparently am not Le Goddess De Felting*. Either that or I am such a super tight knitter (this could very well be) that the socks didn't have the time necessary to felt enough before they had shrunk to the necessary size.

But regardless, I'm thinkin the MAIN point to be made here is that

I finished a freakin' project

!!!! Whoo hooo!

And they even fit....



.......which I believe takes me back to Sock Knitting Genius status, if'n I'm not mistaken!! ;)

Now, had only They** commanded that there also be A Clean House...... or Clean Laundry ... or maybe even A Date With a Hot Man. But no ... sigh ... They only commanded that there be Fuzzy Feet. So the rest of the weekend was spent just relaxing ... kinda like this........



(Thanks to Emma for the reenactment!)
* As was proven by the Sheep Shit Hat fiasco. (have I told that story yet??)
**Whomever "They" are ... I haven't quite figured it out. But man, do they seem to hold the power. Or the peer pressure. Somethin'! :)